If you get a flat tire, your car battery dies, or severe weather forces you off the road, will you be prepared? Most cars have plenty of room to store a few small items that will make an unpredicted emergency less stressful. The following is a list of items that should be stored in your vehicle to ensure that you will be prepared if you happen to become stranded while driving.
Warning Triangles will warn other motorists that your vehicle is stalled in busy traffic
Instantly tells motorists to be alert for a roadside emergency Meets U.S. Federal Motor Vehicle Safety Standard No. 125 for warning devices Weighted base assures the triangle remains stable
A Jump Starter because dead batteries happen to the best of us
Designed to jump start 8-cylinder engines and smaller, and weighing just three pounds, the JNC318 packs some serious punch. The JNC318 includes a set of smart clamps that make the jump starting process safe and easy. Simply connect the battery clamps, wait for the green LED, and you are ready to start your vehicle. the JNC318 can also be used as a USB power bank for recharging electronic devices such as phones and tablets. 
A Flashlight because emergencies happen at all times of the day
You can use your cell phone as a light source, but you'll definitely want to preserve your battery in an emergency. A heavy duty, waterproof flashlight will allow you to take a look under the hood and make a nighttime car emergency less scary. Just make sure you have extra batteries. The J5- Tactical easily lights up an entire room or focus in on objects up to 600 feet away. 10 times brighter than old incandescent lights. Conveniently powered for hours with a single AA battery. The beam can sweep light over the length of two football fields on a clear night.
Should an accident trap you in your car, this rescue tool could save your life in a couple ways. It has a seat belt cutter, a steel hammer head that easily breaks side windows, and a glow-in-the-dark pin for easy retrieval in the dark. Every car should have one easily accessible!
Whether you're cleaning up a head wound filled with glass shards or fixing a boo boo on your two-year-old, it's good to have a first aid kit. The Swiss Safe First Aid Kit comes with 120 medical grade items and at only 9 inches wide and weighing 1.2 pounds, fits perfectlyin your car glove box
For more serious situations, keep a warm blanket or sleeping bag in your car. This is essential to keeping your body temperature up during the cold months while waiting for help to arrive. These Emergency Mylar Thermal Blankets are designed to retain up to 90% of body heat and are perfect for use in emergency survival situations and is waterproof, windproof, and moisture-proof, helping to keep you dry in damp, wet, rainy, and downright cold environments.
A charged mobile phone is your best chance at getting out of a serious situation. Whether you've been injured after a crash, or your car simply stopped working, being able to call for help when you need it is essential and cell phones, and their batteries, are notoriously unreliable and quick-draining in emergency scenarios. It's like they know when you need them most. Build some redundancy into your car's emergency kit by keeping both a charger, and an extra battery. No excuses; they're cheap these days.The Anker PowerCore has enough power to keep your mobile device going for days. Charge an iPhone 7 almost seven times, a Galaxy S6 five times or an iPad mini twice.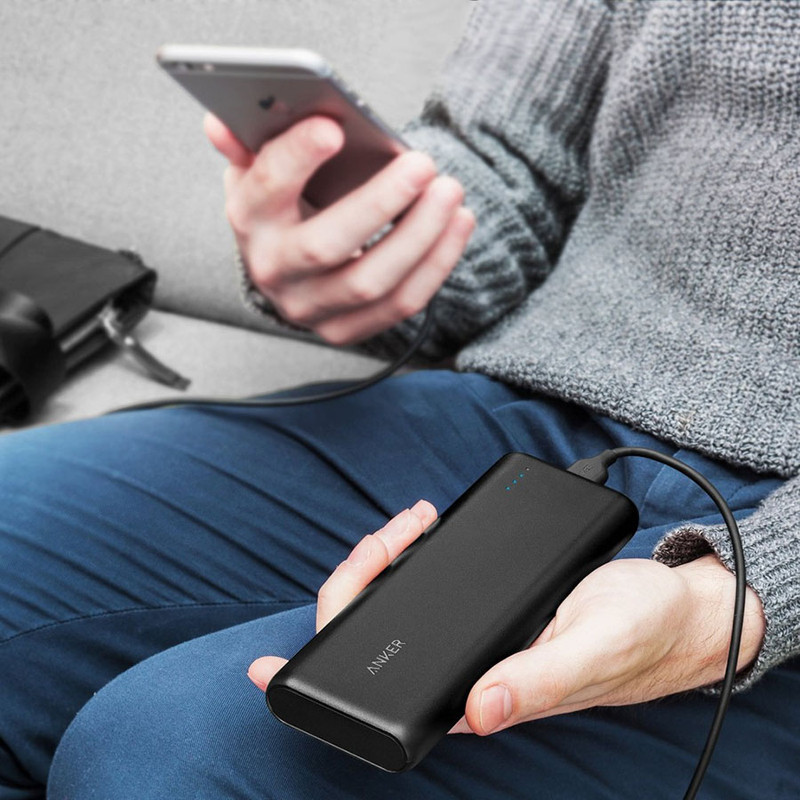 You never know when you'll be stranded for long periods of times in your car. And depending on where you are, you could be dozens of miles from the closest source of help. Keep some MREs or granola/power bars in the back of your car to munch on while you wait for a tow truck to come, or to sustain you for a long walk to a gas station to call for help.