It's all the little things that happen when making dinner that adds up and make this task time-consuming. From stripping kale from the stem to mincing garlic to straining pasta without all the pasta spilling out, these amazing products will solves your problems and save you valuable time in the kitchen.
This Device Makes The Process Of Stripping Kale Super Easy
This clever gadget can be used to strip leaves from a variety of leafy greens such as kale, chard and greens as well as herbs such as rosemary, oregano and thyme. Simple to use just insert stem and pull through the selected hole. Remove leaves from herbs and kale in seconds
This Ingenious Product Protects Soups, Broths, And Water From Boiling Over Onto The Stove Top
Tired of pots boiling over and making a mess? announcing the end of burned-on spills from boiled over pasta, rice, soups, milk and starchy liquids. Use the Kuhn Rikon spill stopper and never worry about pots boiling over again. It works as both a lid and a splatter guard. Heavy silicone spill stopper traps excess foam and liquid so it doesn't spill all over your stove. Heat resistant to over 400-degrees.
Get The Last Ounce Of Batter From Your Whisk The Next Time Your Baking
Whisk Wiper wipes the whisk and bowl while conserving food and water, and keeps your whisk and counter clean.
How simple is it? Before whisking, take a moment to line up whisk loops with Whisk Wiper as you pull it on. When you're finished whisking, simply pull it back off and you'll have a wiped whisk with the food neatly gathered on top.
Perfectly Peel Your Fruits And Veggies With The Rotato Express
Peeling fruits and vegetables is quick and easy with the Rotato Express. Plop on a potato, peel it and pare it in 10 seconds flat—sayonara potato skins! The Rotato Express instantly peels not just potatoes but also other fruits and vegetables at the push of a button. It stops automatically when the peeling is over and will operate cordlessly with batteries, making it "picnic portable."
The Secura Cordless Electric Wine Bottle opener removes the cork in seconds and with the built-in rechargeable battery it can open approximately 30 bottles of wine on a single charge. This wine bottle opener features an attractive Stainless Steel handle that fits comfortably in the palm of your hand and the transparent shell surrounding the corkscrew mechanism eliminates any need for guessing when the cork has been fully removed from the bottle. The foil cutter, included with the Secura Wine Bottle Opener, fits securely on the charging base so it is always close at hand. Simple push-button operation and elegant charging base with blue LED light make this wine bottle opener a great addition to your household appliances.
The GarlicZoom Perfectly Minces Garlic Without The Mess
Mince garlic faster than ever with the Chef'n GarlicZoom Garlic Chopper. This mighty gadget allows you to mince garlic to your desired texture without dirtying cutting boards or knives with sticky garlic juice. Simply load the GarlicZoom chamber with garlic, roll the unit back and forth on a smooth surface, and let the interior blades take over. Rolling more will result in a fine mince while less rolling offers a coarser chop. 
This Device Helps You Make Perfect Sushi Rolls At Home
This Sushi Making Kit has been designed so that everyone can make a sushi roll the very first time. The hardest thing to do as a beginner is to spread the right amount of rice. That's where this training frame will come handy which measures exactly the amount of rice you need to make a perfect role. There's also a non-stick rice paddle to help you spread the rice along the training frame. The last thing you need as a beginner is dealing with sticky rice all over your fingers as your trying to spread the rice. Then once the roll is made, cutting the roll evenly can be challenging for beginners. This is sorted with the help of the SushiQuik Roll Cutter which let's you evenly cut your rolls while saving your fingers.
The Snap'n Strain Is Exactly What You Need For Pasta Night Dinners
This top quality heat-resistant, silicone colander is the newest, most practical way to get your food strained thoroughly while avoiding transferring the food out of the pot. The Snap N' Strain is flexible enough to fit onto nearly all pots, pans, and bowls.
Modeled after a Triceratops dinosaur, this meal-time accessory will turn your next Taco Tuesday Jurassic, devouring tacos with style! Perfect for kids and adults that are looking to add a bit of fun to the dinner table!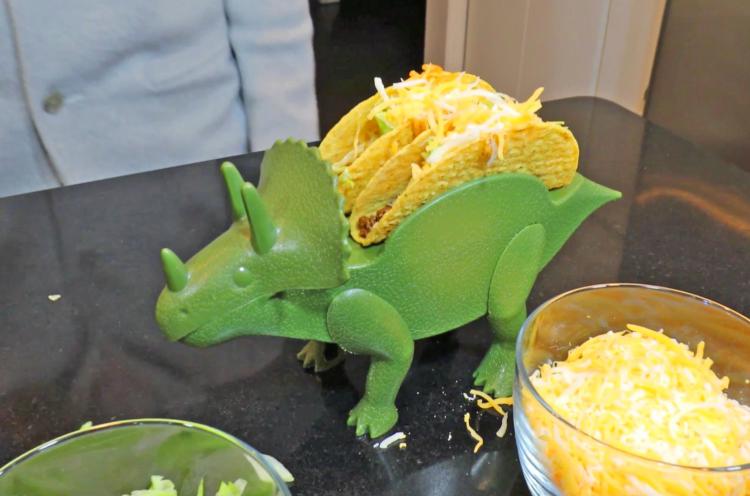 If You're An Avocado Lover, You Need This Tool In Your Life
All-in-one tool splits, pits, and slices avocados safely and effectively. Pitter removes pit with a safe and easy twisting motion. The fan blade cuts the avocado into seven perfect pieces. Soft, comfortable, non-slip grip. Top-rack dishwasher safe.